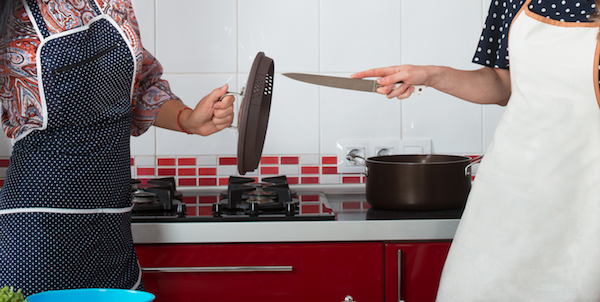 The Kitchen Witches Dinner Theatre – One Night Only
June 2, 2018
Dinner 6:30 p.m.
Curtain 7:30 p.m.
Buy tickets online or by phone 816-325-7367
Price includes dinner and show.
Menu
Pasta Salad
Green Beans
Golden Cheese Potatoes
White Rolls
BBQ Beef Brisket
Boneless Chicken Breast in Mushroom Gravy
Assorted Desserts
Beverages
Show Information
Written by: Caroline Smith
Directed by: Michael Masterson
SYNOPSIS
Isobel Lomax and Dolly Biddle are two "mature" cable-access cooking show hostesses who have hated each other for 30 years, ever since Larry Biddle dated one and married the other. When circumstances put them together on a TV show called The Kitchen Witches, the insults are flung harder than the food! Dolly's long-suffering TV-producer son Stephen tries to keep them on track, but as long as Dolly's dressing room is one inch closer to the set than Isobel's, it's a losing battle, and the show becomes a rating smash as Dolly and Isobel top both Martha Stewart and Jerry Springer!
Performance Dates: May 31 & June 1, 2, 8, 9, and 10, 2018
Kitchen Witches is presented by special arrangement with Samuel French.