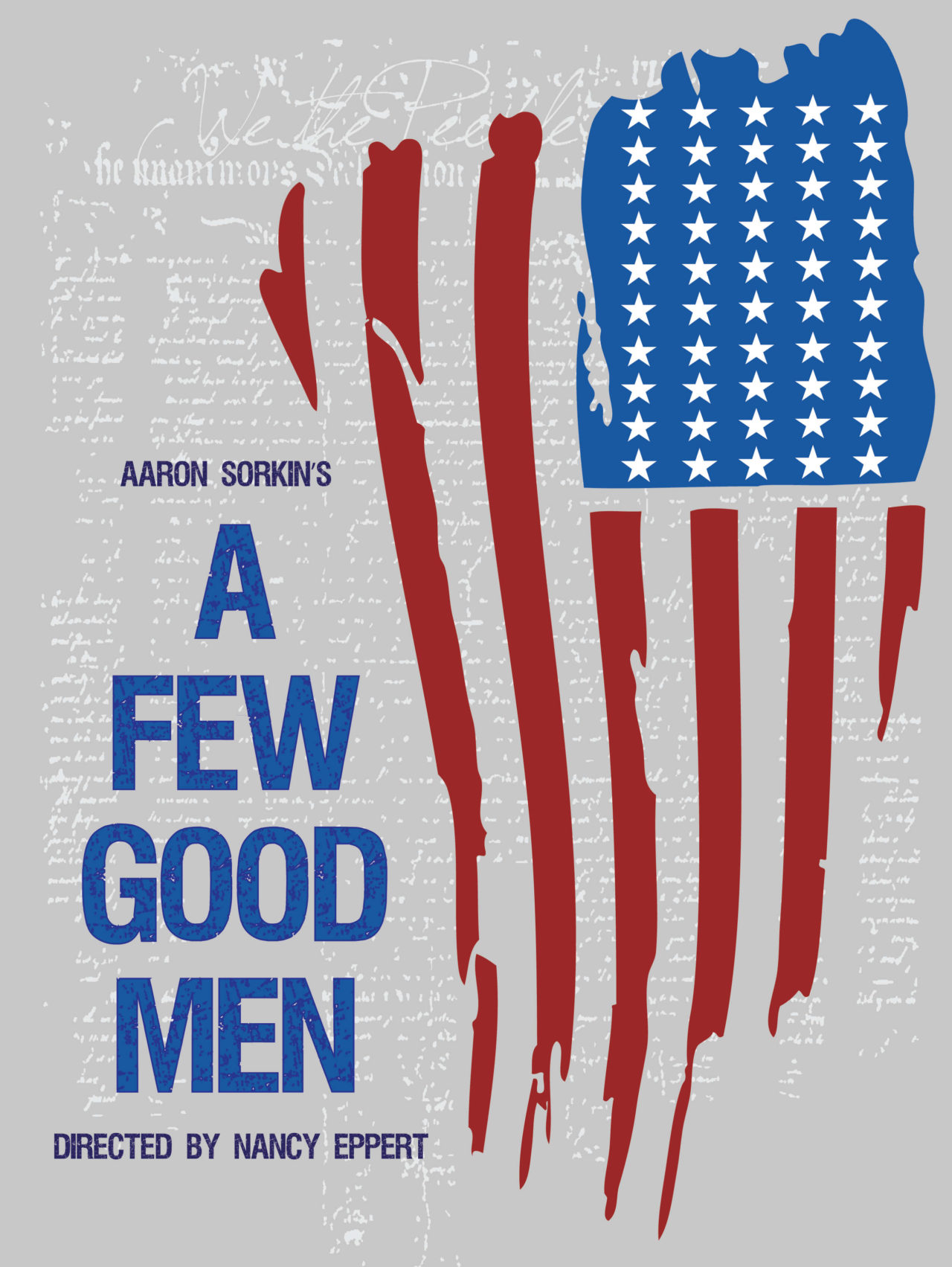 A FEW GOOD MEN
Written by: Aaron Sorkin
Directed by: Nancy Eppert
Audition Dates: August 27 & 28 from 6:30-8:30pm
Performance Dates: November 1, 2, 3, 9, 10 at 7:30 & November 11 at 2:00
(Please note, there are previously published scripts: 1990, 1998 and 2012. We are using the most recent addition from 2012. Also note, legally acquired cuts of offensive word usage has been attained.)
Auditions will consist of cold readings from the script; in the South Room (2nd floor) of the Roger T. Sermon Center, 201 N Dodgion, Independence MO 64050, 6:30 pm to 8:30 pm, Monday, August 27th and Tuesday, August 28th. Possible call back, by invitation on Wednesday the 29th. A theatre resume and photo are helpful, but not mandatory. Sides will be available 30 minutes prior to posted audition times for perusal. The show will play weekends: November 1st-11th (Veteran's Day).
Perusal scripts will be available for check out two weeks prior to auditions with a $20.00 deposit at the office of the Roger T. Sermon Center.
Monologues are not required but will be accepted if requested by anyone auditioning. Military appearance will be required for performance, including publicity photos. All ethnicities encouraged to apply; females can play some of the roles listed.
Synopsis
Before creating Sports Night and The West Wing, Sorkin launched his career with this military drama. During the summer of 1986, while serving at Guantanamo Bay Naval Base, a young Marine is killed by fellow Marines. As members of the Navy Judge Advocate General's Corp begin preparing their defense, discrepancies arise, leading everyone to question what really happened that night in Cuba and the difference between truth and justice.
"Dense political thriller .. Scenes crackle with excitement … a classic!"
Cast Requirements
LANCE CPL. HAROLD W. DAWSON
PFC LOUDEN DOWNEY
LT. J.G. SAM WEINBERG
LT. J.G. DANIEL A. KAFFEE

LT. CMDR. JOANNE GALLOWAY
CAPT. ISAAC WHITAKER
CAPT. MATTHEW A. MARKINSON
PFC. WILLIAM T. SANTIAGO
LT. COL. NATHAN JESSEP

LT. JONATHAN JAMES KENDRICK

LT. JACK ROSS

CPL. JEFFREY OWEN HOWARD

CAPT. JULIUS ALEXANDER RANDOLPH

CMDR. WALTER STONE
MARINES, SAILORS, M.P.'s, LAWYERS, et al.