Article by Lynnae Andersen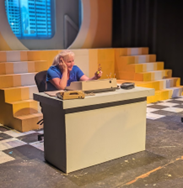 In 1882, New York City celebrated the progress labor unions had made in protecting workers' rights with parades, parties, and a day off. By 1909 so many cities were joining in the celebration that the American Federation of Labor resolved to make the event a national holiday (US Department of Labor). Now we celebrate with family cookouts and–if you're local to Independence like us–SantaCaliGon, a massive arts and culture festival at the heart of the historic square where the three trails West started.
Just down the hill from the crafts, carnival, music, popcorn, and root beer is the Roger T. Sermon Center, the home of our community theatre troupe since 1980. While our community relaxes with hot dogs and crafts, CTI is working 9 to 5 on 9 to 5 the Musical. The cast "clocks in" on Friday, September 8 and is sure to entertain you while shining light on issues many female workers faced in the workplace into the 1980s.
Director Christina Foltz's vision for this show highlights the comedy of the story while also showcasing the struggles women faced in breaking through the glass ceiling. 9 to 5 the Musical follows the same plot as the 1980 movie that inspired it.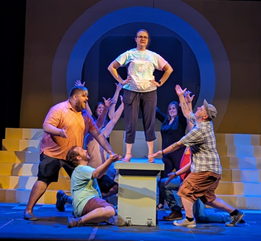 The show includes the titular song as well as other original songs written by Dolly Parton to enhance the minor adjustments Patricia Resnick made to the original story. Join Violet Newstead (HeatherAnne Norbury), Doralee Rhodes (Brittany Hill), and Judy Bernly (Danielle Gibbs) as they find their voices, fight for their workplace rights and hang their problems–namely their boss, Mr. Hart (Kevin Rehrer)–out to dry.
The show runs Friday-Sunday, September 8-10 and 15-17. Tickets are available via CTI's website and at the door, but get them fast: Opening Night is selling out fast!