City Theatre of Independence43rd Season
Its our 43rd season! LET US ENTERTAIN YOU! Two wonderful musicals, a thought provoking drama, an inspirational classic and a terrific family comedy will delight and entertain you and make you glad to welcome the return of live theatre to Independence!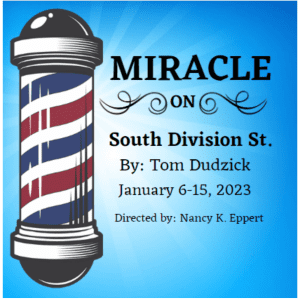 Miracle on South Division
January 6 – 15, 2023
Directed by Nancy K. Eppert
Meet the Nowaks of Buffalo, New York. Clara and her three grown kids have always known they were special, ever since the miraculous Christmas Eve in 1942 when the Blessed Mother appeared to Grandpa in his barbershop! Daughter Ruth divulges her plan to finally "go public" with the family miracle by creating a one-woman play about the sacred event. But during the meeting, the entire family's faith is shaken to the very core when a deathbed confession causes the family legend to unravel. The results are heartfelt and hilarious.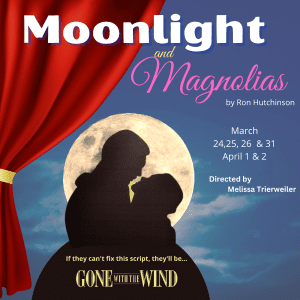 Moonlight and Magnolias
March 24-26 & 31, April 1-2, 2023
Auditions – January 9-11, 2023
Directed by Melissa Trierweiler
Legendary film producer David O. Selznick is five weeks into shooting Gone With the Wind when he realizes the script is awful, and that the director doesn't have a clue. He has five days to replace them, and restart the shoot, or the production will shut down. Selznick enlists Victor Fleming to direct and taps legendary playwright, screenwriter and script doctor Ben Hecht to rewrite the script. There's only one problem: Hecht hasn't read the book. As Selznick and Fleming act out the book for Hecht, the phone rings off the hook with calls from the likes of Vivien Leigh, Louis B. Mayer and Ed Sullivan. Hutchinson's play, based on historical events, is written as farce, but the characters also deal with serious questions about race and the fragile position of Jewish executives in Hollywood.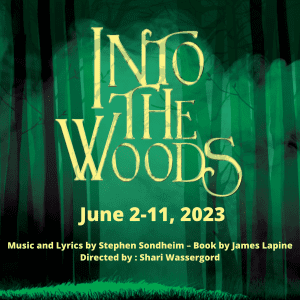 Into the Woods
June 2 – 11, 2023
Auditions – March 12-13, 2023
Callbacks – March 14, 2023
Directed by Shari Wassergord
James Lapine and Stephen Sondheim take everyone's favorite storybook characters and bring them together for a timeless, yet relevant, piece and a rare modern classic. The Narrator introduces the cast of characters, each with a wish: the Baker and Baker's wife long for a child but cannot conceive, Jack desperately wishes his cow Milky White would once again provide milk so he wouldn't have to sell her, and Cinderella dreams of attending the king's ball and someday being free of her cruel stepmother and stepsisters. When all their tales, and the tales of other fairy tale characters, lead to the woods and become intertwined, dreams come true, and wishes are granted. Their happiness has consequences, though, and the characters are forced to band together to save their world from destruction. The Tony Award-winning book and score are both enchanting and touching.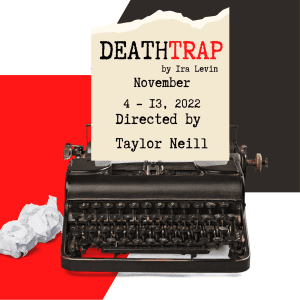 Deathtrap
November 4 – 13, 2022
Directed by Taylor Neill
In Ira Levin's classic comedic thriller, Deathtrap, a washed-up playwright finds a chance to rise to the top once more, a shot he'd be willing to kill for. Sidney Bruhl has not written a hit play for eighteen years when he receives a script from a former student, Clifford Anderson, that's a guaranteed success. His wife, Myra, suggests the two men could collaborate; Sidney jokes that it would be just as easy to murder the young man and steal the script for his own. When Clifford arrives later that evening, no one–not even the visiting psychic–could predict where the dark events of the night will go. Who is innocent? Who only seems that way? Deathtrap is a sharply funny play full of twists and turns that keep an audience on the edge of their seats. Is anyone really safe when a man sees a clean shot at success?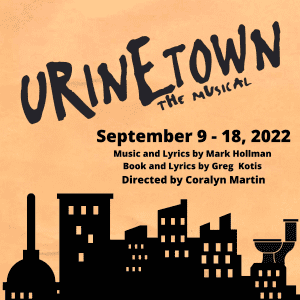 Urinetown
September 9 – 18, 2022
Directed by Coralyn Martin
Hilariously funny and touchingly honest, Urinetown provides a fresh perspective on one of America's greatest art forms. In a Gotham-like city, a terrible water shortage, caused by a 20-year drought, has led to a government-enforced ban on private toilets. The citizens must use public amenities, regulated by a single malevolent company that profits by charging admission for one of humanity's most basic needs. Amid the people, a hero decides that he's had enough and plans a revolution to lead them all to freedom!
Dinner Before the Show
Dinner Theatre is by reservation only, and tickets must be purchased in advance.